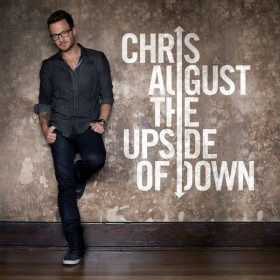 NASHVILLE (WordNews.org) Oct. 8, 2012 – Chris August came onto the Christian music scene almost out of nowhere two years ago, with the hit album, No Far Away.
The song "Starry Night" hit No. 1 on the Billboard Christian Songs.
August received Dove's New Artist of the Year and Male Vocalist of the Year awards and Starry Night was named Pop/Contemporary Song of the Year in 2011.
But that was last year.
Now August is out with a new album, The Upside of Down.
"There's definitely some more expectations," August told WordNews.org.
With his Christian record debut, he said there wasn't any pressure.
"Nobody knows who you are, so if you fail, you can just go get a job anywhere, get a discount at Best Buy," August said. "That's what I would do."
No need. That first album was anything but a fail. Now fans are looking for a repeat.
"A little more pressure comes with the second album. Especially when you have a first album that's somewhat successful," he said. "Then people think, 'Well, you better do something awesome on this one. You won some awards for the last one. Now you've got to do something really awesome.'"
August seems to be taking it in stride.
"For me, I just kind of wanted to continue to write songs that people can relate to and can encourage them," he said. "I'm feeling like I did that. I worked extremely hard on this record, The Upside of Down. I'm just ready for people to hear it and get something out of it."
People are hearing it. The song Center of It Allfrom the album is  in heavy rotation on KLOVE and August now on tour with tobyMac, playing to sold out crowds.
Come back tomorrow for the second installment.