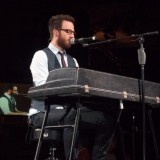 NASHVILLE (WordNews.org) Oct. 10, 2012 – If you're sitting next to Christian recording artist Chris August, don't be offended if he doesn't talk to you.
He's probably writing a song.
Unlike some artists who have compiled a number of songs before landing that first record contract, August was writing new songs as he was making the album.
"They were all brand new," August told WordNews.org.
No Far Away, his first Christian album – he had previous recorded a secular album – became a hit.
So the process for writing his latest album, The Upside of Down, was pretty similar.
"The one difference was I was on the road a lot," he said. "So I was having to write a lot of these songs while on the road, in my dressing room or on a tour bus or on an airplane in my head."
He's on the road again now, touring with tobyMac and Jamie Grace.
"I can remember plugging in to my iPhone and pulling up a little piano app and writing the melody and lyrics in my head," he said. "People around me probably think I'm crazy, but that's OK, getting songs written."
Where does he get his inspiration? It's not what you may think. Come back tomorrow for the latest installment.