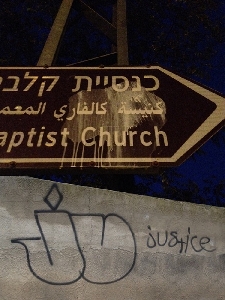 JERUSALEM (WordNews.org) Nov. 14, 2012 – The Calvary Baptist Church in Jerusalem was vandalized on Monday, according to the church's pastor.
"The sign pointing people to the church was defaced with white paint with 'justice' written on the wall next to the sign," said Pastor Steven Khoury, the head of Calvary Baptist Church.
He said it's the latest act of vandalism against Christian sites in Jerusalem. In September, vandals burned a door of the Trappist Monastery in Latrun and spray-painted anti-Christian graffiti with the words "Jesus is a monkey." Last month, the Church of the Dormition Abbey on Mount Zion, near Jerusalem's Old City, was defaced with graffiti that included the words "price tag."
The church has since installed security cameras and watch groups are patrolling the grounds around the clock, Khoury said.
"It is our wish to help law enforcement in east Jerusalem to help capture any culprits who think to further vandalize as has occurred over the last few years to Christian, Muslim, and Jewish holy sites," he said.
Police are investigating the incident.