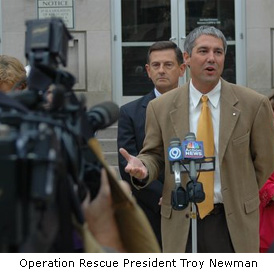 WASHINGTON, D.C. (WordNews.org) Jan. 24, 2013 – Pro-life leaders will descend on Washington, D.C. today in front of Planned Parenthood to pray for an end to abortion and then release a video chastising Republican leaders who funding abortion.
The national leaders will release their first video today at 10 a.m. demanding the U.S. House of Representatives end funding for abortion.
"We will no longer allow the Speaker [John Boehner] to call himself prolife while he allows billions of dollars to follow into the hands of the nation's largest abortion provider," said Troy Newman, president of the Kansas-based pro-life group Operation Rescue.