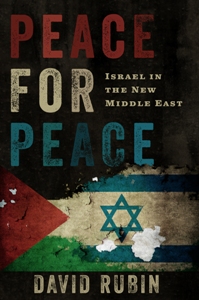 NEW YORK (WordNews.org) March 13, 2013 – Author and Middle East expert David Rubin says President Barack Obama is expected to demand a timetable for unilateral Israeli withdrawal from Judea and Samaria during is March 20 trip to Israel.
Rubin acknowledges the White House has denied the claim.
Rubin is the author of "Peace for Peace," centered on peace in the Middle East.
"The time has come for Israel and all peace-makers to take a step back and examine the peace process with open eyes, without ignoring the religious-cultural turmoil in the new Middle East," said Rubin.
"Land for peace is dead. Israel has been playing the 'land for peace' game for years, and all that it has received in return have been terrorist shootings and missile attacks."
Rubin is a former mayor and long-time resident of Shiloh, Israel, in the region of Samaria, known to much of the world as the West Bank.  After he was wounded in a terrorist attack, along with his three-year-old son, who was shot in the head, Rubin established the Shiloh Israel Children's Fund, which focuses on healing the trauma of terror-victim children.
His commentaries have been featured on Fox News, CBN, Dennis Miller, Michael Savage and Michael Medved.