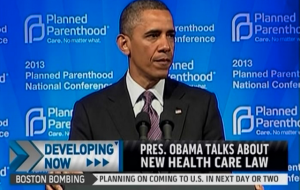 WASHINGTON, D.C. (WordNews.org) April 27, 2013 – President Barack Obama, the first sitting president to speak before abortion provider Planned Parenthood, was criticized for not mentioning Dr. Kermin Gosnell or tempering his remarks.
Gosnell is on trial facing capital murder charges in Philadelphia for the death of four babies.
"With the Gosnell story changing the hearts and minds of so many Americans on abortion, have these horrific stories tempered President Obama's extreme position at all?" asked Marjorie Dannenfelser, president, Susan B. Anthony List. "Nope."
Dannefelser said Obama didn't mention the Gosnell case.
"But doesn't that tell us precisely what he thinks about Gosnell?" asked Dannenfelser. "He's seen the horrors of the Gosnell clinic and embraced them by choosing this moment to make an unprecedented presidential stand in favor of unrestricted, unregulated abortion. In his speech yesterday morning he doubled down on his commitment to them in this coming fight."
Obama said: "You've got a president who's going to stand with you every step of the way. … Planned Parenthood is not going anywhere."
Dannefelser said despite Obama's remarks, "America has woken up to the horrors of abortion by the exposure of the Gosnell clinic."
To comment on this story