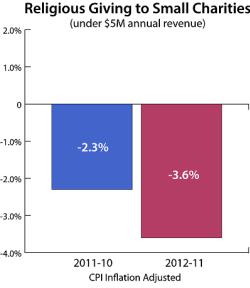 WINCHESTER, Va. (WordNews.org) June 6, 2013 — Giving to large nonprofits and churches affiliated with the Evangelical Council for Financial Giving, an accreditation agency, saw giving rise 2.4 percent in 2012.
That compared with a 1.4 percent dip in 2011, according to ECFA.
Meanwhile, giving to small nonprofits dropped for the second year in a row.
When adjusted for inflation, cash gifts to ECFA members with fiscal years ending Dec. 31 were $5.3 billion last year, compared with $5.1 billion for the previous year.
"Religious nonprofits are still fighting to regain their pre-2008 giving levels. When comparing pre-recession to current-giving data, giving to ECFA members is up a scant .4 percent over the six-year period," said Dan Busby, ECFA president. "It underscores that this is a time for Congress to maintain, and even increase, charitable giving incentives for charities."
The report is part one of ECFA's fourth annual State of Giving Report (www.ecfa.org). The second segment of the 2013 report will be issued in August, with the final data to be released in November.
Organizations with under $5 million in annual revenues saw cash donations decrease by 3.6 percent in 2012, while those above $5 million in revenue saw a 2 percent increase. Charities with under $1 million in annual revenues saw cash donations decrease by 9.6 percent, an even greater decrease for this group than shown in the 2011-2010 comparison, which was down 4.8 percent.
"The near 10 percent drop in giving to the smallest charitable organizations is especially troubling because it is the smaller charities which dot America's landscape and provide most of the services to program recipients at the grassroots level," Busby said. "These small organizations comprise nearly 60 percent of the ECFA members included in this study."
The 2011-to-2012 data is representative of 610 ECFA-accredited organizations. While ECFA currently serves more than 1,750 accredited organizations, the data on remaining organizations will be received by ECFA in the second half of 2013. Data comes directly from financial statements prepared by independent Certified Public Accountants — primarily audited financial statements — not from member organization surveys.