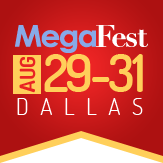 DALLAS (WordNews.org) July 16, 2013 – Bishop T.D. Jakes' MegaFest 2013 will include the International Faith and Family Film Festival this year.
The film festival will showcase such projects as Fox Searchlight's "Black Nativity," Image Entertainment's "Winnie Mandela" and Sony Pictures Entertainment's "Heaven is for Real," based on the best-selling book by the same name recounting a 4-year-old's experience in heaven. Actress Regina King is also expected to attend.
Jakes said he appreciates the entertainment media's influence in helping shape cultural messages and bring people to Christ. He said he believes a new and vibrant "faith and family" film festival will raise the bar and change perceptions about faith-oriented films.
"Americans are looking for wholesome entertainment that reflects the values they practice and teach their children every day. We're filling that void," said Jakes. "This film festival is designed to encourage studios and the rising number of faith and family-based film companies to help this type of entertainment grow."