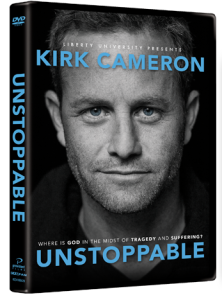 NASHVILLE (WordNews.org) Oct. 5, 2013 – "Unstoppable: A Live Event with Kirk Cameron" grossed $3.2 million during the two nights it appeared in films.
The film sold more than 150,000 tickets for the Sept. 24 showing and 102,000 tickets were told for the second, and final, showing on Oct. 3. The movie showed in 670 theaters and was the third grossing film on Oct. 3.
The live event was inspired by the death of Cameron's close friend who succumbed to cancer at the age of 15. Cameron takes viewers on an inspiring and hope-filled visual journey to better understand the biggest doubt-raising question in faith: "Where is God in the midst of tragedy and suffering?"
In the film, Cameron looks at the origins of good and evil and how they impact our lives and our eternities. The film face resistance when two popular social media sites blocked the film's trailer, labeling it "unsafe" and "abusive." That led to Cameron's supports rallying to have the social media sites release the trailers. [Click here for the trailer].
Cameron is best known for his memorable role as "Mike Seaver," on Growing Pains. More recently he enjoyed much success with his recent documentary, Monumental. Cameron and his wife Chelsea are the founders of Camp Firefly, where terminally and seriously ill children and their families are provided an all-expense paid retreat (www.CampFirefly.com). Together, Kirk and Chelsea live in California with their six children.
The film is set to be released on DVD on Jan. 28, 2014, selling for $14.99.