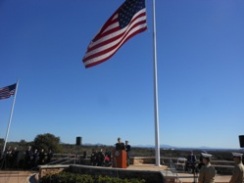 SAN DIEGO, Calif. (WordNews.org) Dec. 20, 2016 — Tim LaHaye, co-author of the popular "Left Behind" series, received special recognition at the Wreaths Across America Day commemoration on Saturday at Miramar National Cemetery in San Diego, Calif.
LaHaye died in July at the age of 90.
Col. Jason Woodworth, USMC, Commanding Officer, MCAS Miramar (pictured), was the guest speaker at Wreaths Across America event. Wreaths were laid at the gravesides of LaHaye and Verna Linzey, ARNG (Ret.). The ceremony also honored all American veterans.
Linzey, who died on Nov. 11 at the age of 97, is known in some quarters as the "Mother of the Fleet," U.S. Navy, and is a former president of the Military Bible Association. She is also the great, great granddaughter of Jacob Mulford Hall, a chaplain in George Washington's Army. Lindsey was the wife of Capt. Stanford Linzey Jr., CHC, USN (Ret.), who was a Battle of Midway survivor, the mother of three military chaplains and grandmother of one Navy chaplain. She was an evangelist on TV, radio and at crusades and was a Bible translator, as well as the author of several books on the Holy Spirit.
LaHaye enlisted in the U.S. Air Force in 1944 at the age of 18. He serve in the European Theater of Operations as a machine gunner aboard a bomber. He was a minister, speaker and author, writing more than 85 books, including the popular "Left Behind" series with Jerry B. Jenkins.
More than 3,000 people attended the event. More than 1 million wreaths were laid on veterans' graves at more than 1,000 cemeteries nationally on Saturday, CBN reported. The event started 25 years ago when a Maine wreath-maker had 5,000 unsold wreaths that he donated to Arlington National Cemetery.