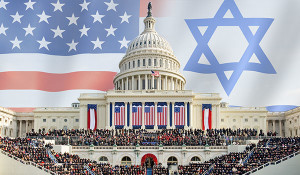 WASHINGTON, D.C. (WordNews.org) Jan. 27, 2017 – Several ministries in the United States are encouraged by President Donald Trump's support for Israel, including plans for the relocation of the U.S. embassy from Tel Aviv to Jerusalem.
Trump recently declared that the strained relationship between the two nations has been repaired since he became president, according to an interview that aired Thursday night with Sean Hannity on Fox News. "We've got a good relationship. Israel has been treated very badly. We have a good relationship with them."
However, some recent reports say Trump may be reconsidering that move, with White House spokesman Sean Spicer noting this week that the possible move is in the early stages.
The International Fellowship of Christians and Jews is looking to capitalize on Trump's apparent desire to strengthen ties with Israel. The organization has launched a "Stand For Israel" campaign that calls on supporters to rally behind Israel.
In an email blast to supporters, the fellowship says "Israel's enemies are rising up and attacking the Jewish state – both on the political front through the United Nations and through terrorists' groups."
As anti-Israel sentiment and anti-Semitism grows globally and terror attacks escalate, the fellowship says now is the time for "faithful friends of Israel" to declare:
"I stand for Israel and the Jewish people and adamantly reject United Nations resolutions that condemn Israel, calling her actions illegal."
"I support Israel and her nation's sovereignty by strongly denouncing the United Nations for their biased censure of Israel."
"I believe Israel has every right to her God-given homeland, and encourage the United States to continue its longstanding tradition of standing with Israel and her people."