MERCER ISLAND, Washington (WordNews.org) Feb. 5, 2017 – The Best Chris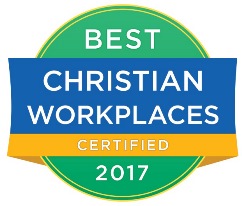 tian Workplaces list for 2017 has been announced, and 78 organizations have been named.
The organizations being Certified Bast Christian Workplaces by the Best Christian Workplaces Institute including Christian camps and conference centers, schools and churches.
The institute is an international nonprofit, research-based, organizational development and human resources consulting firm, with head offices in Mercer Island, Wash. BCWI says its vision is to see Christian workplaces set the standard as the best, most effective places to work in the world.
"The 18 percent increase in the number of certified organizations since 2012 means we're seeing a continuing, upward trend in the number of ministry organizations, churches and Christian-owned businesses building a healthy-to-flourishing culture which, in turn, increases their organizational impact," said BCWI President Al Lopus.
Certified status is based on eight benchmarks: fantastic teams, life-giving work, outstanding talent, uplifting growth, rewarding compensation, inspirational leadership, sustainable strategy and healthy communication.
These benchmarks form the core of BCWI's Employee Engagement Survey, which has been completed by more than 221,000 employees in 878 organizations, churches and Christian-owned businesses since 2002.
The organizations received the certification from July 2016 to January 2017 are:
CAMPS & CONFERENCE CENTERS
BigStuf – Alpharetta, GA
CRISTA Camps – Seattle, WA
CHRISTIAN-OWNED BUSINESSES
Aspen Group – Frankfort, IL
Dr. Bray & Dr. Young – Statesboro, GA
The Human Capital Group, Inc. – Brentwood, TN
CHRISTIAN SCHOOLS
Briarcrest Christian School – Memphis, TN
Calvary Christian Academy – Fort Lauderdale, FL
Cherry Hills Christian School – Highlands Ranch, CO
College Heights Christian School – Joplin, MO
King's Schools – Seattle, WA
Lionheart Children's Academy – Euless, TX
Seattle Urban Academy – Seattle, WA
Trinity Academy – Raleigh, NC
Valley Christian Schools – Cerritos, CA
CHURCHES
Antioch Community Church – Waco, TX
Calvary Chapel Fort Lauderdale – Fort Lauderdale, FL
Calvary Lutheran Church of Golden Valley – Golden Valley, MN
Cherry Hills Community Church – Highlands Ranch, CO
Christ's Church of the Valley – Peoria, AZ
Cornwall Church – Bellingham, WA
Crossings Community Church – Oklahoma City, OK
Crossroads Christian Church – Evansville, IN
Experience Life Church – Lubbock, TX
Faith Promise Church – Knoxville, TN
Gateway Church – Southlake, TX
Grace Community Church – Tyler, TX
Harvest Church – Billings, MT
Hillside Baptist Church – Moncton, New Brunswick, Canada
Park Community Church – Chicago, IL
Pure Heart Church – Glendale, AZ
Red Cedar Church – Rice Lake, WI
Redeemer Presbyterian Church – New York, NY
River Pointe Church – Richmond, TX
Summit Church – Durham, NC
The Village Church – Flower Mound, TX
Timberline Church – Fort Collins, CO
HIGHER EDUCATION
Faith Builders – Guys Mills, PA
Grace School of Theology – The Woodlands, TX
MacArthur School of Leadership at Palm Beach Atlantic – West Palm Beach, FL
Olivet Nazarene University – Bourbonnais, IL
MEDIA
CRISTA Media – Seattle, WA
LightMelbourne – VIC, Australia
Positive Alternative Radio, Inc. – Blacksburg, VA
The Urban Alternative – Dallas, TX
Tyndale House Publishers – Carol Stream, IL
PARACHURCH & MISSIONS
Apartment Life – Euless, TX
Buckner National Missions and Family Hope Center Collaboration – Mission, TX
Care Net – Lansdowne, VA
Catholic Christian Outreach – Ottawa, Ontario, Canada
Child Evangelism Fellowship, Greenville/Piedmont District – Taylors, SC
The Christian and Missionary Alliance – Colorado Springs, CO
Christian Veterinary Mission – Seattle, WA
Coalition for Christian Outreach – Pittsburgh, PA
Compass – Kearney, NE
CRISTA Ministries – Seattle, WA
English Language Institute/China – Fort Collins, CO
Food for the Hungry-Uganda – Kampala, Uganda
The Gideons International – Nashville, TN
Jewish Voice Ministries International – Phoenix, AZ
Joni and Friends – Agoura Hills, CA
Lexington Rescue Mission – Lexington, KY
Miracle Hill Ministries – Greenville, SC
Mission India – Grand Rapids, MI
Novo Ministries – Oklahoma City, OK
Rachel House – Lee's Summit, MO
VisionTrust International – Colorado Springs, CO
Water Mission – North Charleston, SC
Willow Creek Association – Barrington, IL
World Concern – Seattle, WA
WorldServe Ministries (Canada) – White Rock, British Columbia, Canada
PRODUCTS & SERVICES
Canadian Council of Christian Charities – Elmira, Ontario, Canada
Christian Children's Home of Ohio – Wooster, OH
Christian Family Care – Phoenix, AZ
Christian Leadership Alliance – San Clemente, CA
Classical Conversations – West End, NC
CRISTA Senior Living – Seattle, WA
Genesis Recovery – La Mesa, CA
Samaritan Ministries International – Peoria, IL