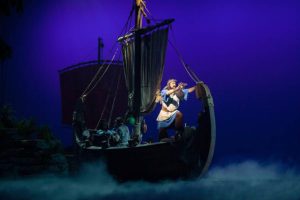 LANCASTER, Pa. (WordNews.org) April 25, 2017 – If you've heard about Sight & Sound Theatres' larger than life performances of Biblical stories but haven't made your way to the Lancaster, Pa., theater, now you don't have to.
"Jonah: On Stage!" may be coming to a  theater near you. The hit musical will be featured on more than 600 screens nationwide for a one-night event on May 2.
The musical was filmed in front of a live audience at Sight & Sound Theatre's and brings to life the journey of Jonah, "this lovable, yet stubborn prophet" and features a 40-foot fish with a whale of an appetite.
To find out where the musical is playing closest to you, visit http://www.JonahOnStageMovie.com.