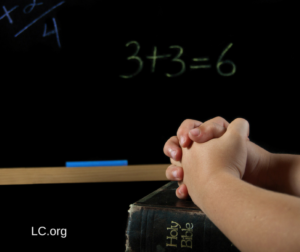 INDIANAPOLIS, Ind. (WordNews.org) – The Indiana Senate and House has sent a bill to Gov. Eric Holcomb aimed at protecting students in public schools from discrimination when they are praying or engaging in religious activities before, during and after school.
HB 2014, sponsored by Rep. John Bartlett, protects the First Amendment rights of students to free speech and religious freedom guaranteed by the U.S. Constitution, says Liberty Counsel's Mat Staver.  Supporters of the measure used Liberty  Counsel's case involving Carmel Teens for Life as an example. In that case, Liberty Counsel said, school administrators censored and discarded the students' previously approved adoption poster display. Liberty Counsel sent a demand letter to the school and the district reversed course.
This bill allows public schools to teach survey courses on world religions and students to pray in school and express their views on God in schoolwork, Staver said. It also allows religious student groups to use school facilities and provides that students may not be discriminated against based on their religion.
"Whether it is wearing a cross necklace, meeting in a Christian club or hanging a pro-life sign on the student club message board, students have the right to free speech and religious expression," said  Staver, founder and chairman of Liberty Counsel. "We applaud this law in Indiana. This follows the passage of a similar law in Kentucky. HB 1024 provides a clear mandate to school officials to protect the free speech rights of students. We encourage Gov. Holcomb to sign this bill."