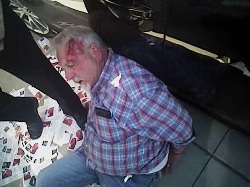 NAPA, Calif. (WordNews.org) June 5, 2017 – A pro-life activist was beaten in a church parking lot here when distributing leaflets on behalf of a anti-abortion congressional candidate, Life Legal Defense Foundation alleges in a news release.
Jeff White, founder of Survivors of the Abortion Holocaust, a national faith-based organization, was allegedly surrounded by church security and harassed and beaten by the four security guards, Life Legal said. Police initially charged White with battery, based solely on the statements of the security guards, Life Legal said, but only recently dropped the charges related to the November incident.
For months, Life Legal Senior Counsel Allison Aranda argued White was falsely arrested. A hearing last week resulted in the same conclusion.
"We are appalled that a prolife activist would be attacked in this way simply because he was handing out literature," said Life Legal Defense Foundation Executive Director Alexandra Snyder. "It took several months, but we are pleased that the court finally delivered justice for Jeff White."
Life Legal is currently evaluating options on behalf of White going forward.