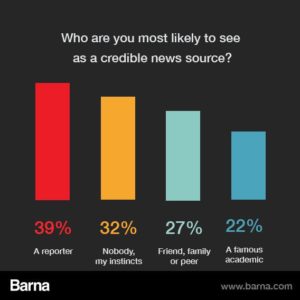 VENTURA, Calif. (WordNews.org) Jan. 10, 2018 – In what has been described by some as a "post-truth" era, the latest Barna Trends 2018 report shows the U.S. public's dwindling confidence in institutions.
However, what may surprise some, 39 percent of the U.S. adults surveyed still see reporters as credible, topping the list of credible sources over friends (27 percent), pastors (14 percent) and teachers (12 percent) while "nobody, I trust my instincts," came in second with 32 percent.
This after a year of reporters, primarily the White House press pool, been the subject of President Donald Trump attacks as purveyors of "fake news."
Another interesting tidbit: 31 percent of U.S. adults surveyed said that fake news may not be the result of bad reporting but in "reader error," where the consumer of news misinterpreted or exaggerated actual news on social media rather than a reporter getting the information wrong.
People said they tend to share traditional, reporter-written stories as much as other social media posts (25 percent each). But 36 percent of respondents said they seek to verify reports by comparing stories on multiple sources. However, 38 percent of those surveyed said they never correct misinformation they see on social media.