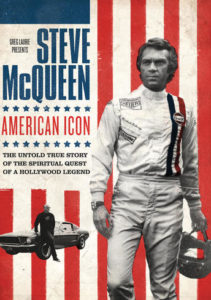 RIVERSIDE, Calif. (WordNews.org) Jan. 14, 2018 – A film on Steve McQueen's spiritual journey which lead to his faith in Jesus will be available on DVD on Feb. 20.
"Steve McQueen: American Icon"  looks at the life of one of Hollywood's "coolest" stars who starred in films such as Bullitt, The Magnificent Seven and The Great Escape, and was the highest paid actor of his time.
Presented by American Icon Films LLC, Erwin Brothers Entertainment (Woodlawn, Moms' Night Out) partnered with Greg Laurie and Harvest Ministries to tell the story of Steve McQueen that most people have never heard.
McQueen's pastor, Leonard DeWitt, who led the little church where the actor accepted Jesus as his Lord and Savior, praised the film for its accuracy.
"(Steve) would be so pleased that the word has gotten out and is getting out about his faith in Christ," DeWitt said. "(The movie) is so well done and the thing that I think is powerful is that none of the people involved are acting. They are simply telling the story."
Narrated by Gary Sinise, Steve McQueen: American Icon features in-depth interviews with McQueen's wife, model Barbara Minty McQueen, and also debuts her candid photographs from McQueen's last years. Additional interviews include Academy Award-winning actor Mel Gibson, renowned stuntman Stan Barrett, celebrated McQueen biographer Marshall Terrill, actors Barbara Leigh and Mel Novak, and the pilots who taught McQueen to fly.
To learn more, visit http stevemcqueenmovie.com.