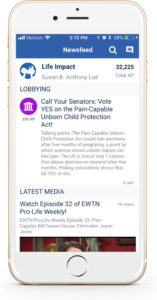 WASHINGTON, D.C. (WordNews.org) Jan. 16, 2018 – Susan B. Anthony List has released a new pro-life app designed to keep pro-lifers up to date on news and legislation.
In a note to supporters, SBA List President Marjorie Dannefelser, said she was hoping to have at least 1,000 users before the March for Life on Jan. 19.
The Life Impact app, available at the Apple App Store and Google Play, will provide the latest pro-life news and action alerts. It will also provide ways users can interact with other pro-lifers across the country.
"There's also an action screen where you can contact your legislators right from the app and watch new videos to earn Action Points," Dannefelser said in the letter.
With each completed action in the app, users receive Action Points, which can redeemed for prizes, exclusive opportunities and other perks which SBA List will be adding regularly.
"You can earn points by watching videos, tweeting and calling your members of Congress, inviting your friends, and more," Dannefelser said. "And the app is a way to chat and share with like-minded pro-lifers across the country!"
For iPhone users, visit: https://itunes.apple.com/us/app/life-impact/id1275319079
For Android users, visit: https://play.google.com/store/apps/details?id=com.ucampaignapp.sba