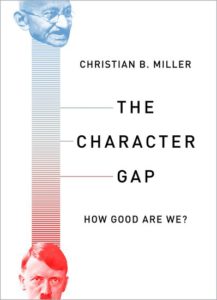 WINSTON-SALEM, NC (WordNews.org) Jan. 29 – In old black and white movies and comic books, the good guys were truly good and the bad guys were truly bad.
But Wake Forest University Professor Christian B. Miller writes in his new book, "The Character Gap: How Good Are We?" that things may not be quite as black and white.
It turns out, the author says, that most of us are a messy blend of good and bad.
Miller's book, "The Character Gap: How Good Are We?", was recently released by Oxford University Press. He is also the director of the Character Project.
He said while we like to think of ourselves, our families and our friends as mostly honest, kind and trustworthy, the fact is that we are we are mistaken.
Studies support this fact that, Miller said, noting that on one hand most people are not cruel or dishonest, yet in a mob scene, bystanders tend to do nothing when someone cries for help. And yet it is also true that there will be many times when people will selflessly come to the aid of a complete stranger – and resist the urge to lie, cheat or steal even if we could get away with it.
Why and when we hurt or help, tell the truth or lie depends on the situation, Miller said.
Drawing on the latest research in philosophy, psychology, theology, literature, and other fields, Miller explains what "character" means, and provides insight on how to bridge the character gap between who we really are and the good person we might like to become.
"Developing a better character is more pressing than ever. In a time of sexual harassment scandals, cyber bullying, and human trafficking, we need to do everything in our power to cultivate virtues like compassion, honesty and justice." Christian Miller, A.C. Reid Professor of Philosophy and director of the Character Project
Some of the most promising strategies for improving character Miller found are:
Following moral role models
Putting ourselves in positive situations
Educating people about the obstacles to good character
Looking to the practices and rituals of leading religious traditions
"Fortunately, we are not stuck with our character. We can gradually shape who we are over the course of our lifetime," Miller said.
Click here to learn more about Miller's book: The Character Gap.