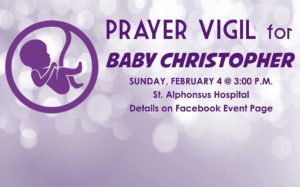 BOISE, Idaho (WordNews.org) Feb. 4, 2018 – A prayer vigil is scheduled today beginning at 3 p.m. Mountain Time for Baby Christopher, a 23-week old pre-born child who family members say is facing incredible odds following the stroke of his mother, who is being kept alive on life support.
The family says medical professionals at Saint Alphonsus Regional  Center have been working "passionately" to ensure the the baby will be delivered safely in the next several weeks.
The founder of Stanton Healthcare, which includes Saint Alphonsus, says the baby's mother is a hero.
"She sacrificed her own life for her son," said Brandi Swindell, founder and CEO of Stanton Healthcare.
To learn more about the prayer vigil, please visit: www.facebook.com/events/1985912278330032/
Pastor Jason Herring, director of ministry outreach at Stanton Healthcare and a spokesman for the family, said:
"As Baby Christopher clients to life, we all cling to hope with his family as we pray for his healthy birth. Through prayer and financial support, the Christina community of the Treasure Valley is standing in solidarity with this precious family and sharing the love of Christ."