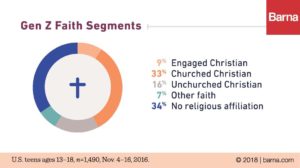 VENTURA, Calif. (WordNews.org) Feb. 6, 2018 – A new study by Barna finds just 9 percent of Gen Z, U.S. teens between the age of 13 and 18, considers themselves engaged Christians.
A whopping 34 percent have no religious affiliation, 33 percent say they go to church and 16 percent say they are "unchurched." The remaining 7 percent have another faith.
According to the survey, 29 percent of Gen Z said that the problem of evil is a major barrier to faith and another 23 percent say "Christians are hypocrites" and 20 percent believe that "science refutes too much of the Bible" and "I don't believe in fairy tales (19 percent).
In regards to attending church, Christians and non-Christians have different reasons for why it is unimportant to attend: 61 percent say they find God "elsewhere" while while 64 percent of non-Christians say "church is not relevant to me personally."
Gen Z also believe educational or professional achievement is more important than a person family background or upbringing, 43 percent compared with 34 percent. All other generations put family background at the top of the list. In keeping with that view, two thirds of those in Gen Z want to finish their education and becoming financially independent by age 30 and just 20 percent want to get married.