WASHINGTON, D.C. (WordNe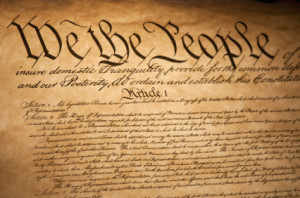 ws.org) June 26, 2013 — Reaction was swift to the U.S. Supreme Court's striking down the Defense of Marriage Act (DOMA) and opened the door for gay marriage to return to California.
In a 5-4 ruling authored by Justice Anthony Kennedy, the vourt struck down Section 3 of the Defense of Marriage Act (DOMA), which denied federal benefits to couples not made up of one man and one woman. The ruling applies to the District of Columbia and the 12 states that have legalized same-sex "marriage."
Kennedy's earlier majority opinions struck down Colorado's voter-approved Amendment Two (1996) barring the use of "sexual orientation" as a civil rights class, and Texas' anti-sodomy law (2003).
"Justice Kennedy has shown utter contempt for constitutional self-government and seems interested only in promoting the use of state power to displace biblical values and to enforce sexual immorality," said Rick Scarborough, president of Vision America and Founder of the Tea Party Unity Project. "This is a profound threat to the freedoms of religion, speech and association."
While gay activists and Hollywood celebs rejoiced Christian groups issued statements, put out videos and even rescheduled radio broadcasts to address the high court's ruling, like Tony Perkins of the Family Research Council.
"While we are disappointed in the Supreme Court's decision to strike down part of the federal Defense of Marriage Act (DOMA), the court today did not impose the sweeping nationwide redefinition of natural marriage that was sought," Perkins said in a statement."Time is not on the side of those seeking to create same-sex 'marriage.' As the American people are given time to experience the actual consequences of redefining marriage, the public debate and opposition to the redefinition of natural marriage will undoubtedly intensify." [To hear Perkins' broadcast].
Alan Sears, president and general counsel at Alliance Defending Freedom, put out a video calling the court's rulings "disappointing and troubling" but with good news: "There's no knockout punch."
Rev. Rob Schenck, president of Faith and Action and chairman of the Evangelical Church Alliance, was present today in the U.S. Supreme C courtroom when the decision was handed down. He was the first to address the national media outside the court immediately following the decisions that were supportive of gay marriage.
"The clergy, churches, and communities I represent today oppose the social re-definition of marriage," he said. "We also share a grave concern for the protection of our God-given and First Amendment right to practice our faith according to deep and long-held beliefs on marriage. We will strongly resist any attempt to force us to conform to popular opinion on this or any other subject."
Schenck  said the definition of marriage is now left to the states, where legislators and other policymakers can hear and respond to the proper authorities on marriage, including churches and clergy.
____________
See new video on domestic threats to religious liberty
____________
He said the court's ruling can't change God's definition of marriage.
"One thing certain about today's Supreme Court opinions is that they do not change the biblical definition of marriage as between male and female," Schenck said. "The great monotheistic faiths have always understood marriage to be, by its very nature, reserved for opposite-sex pairings.  I'm reminded of the words in Genesis Chapter 2, verse 24: "Therefore a man shall leave his father and mother and be joined to his wife, and they shall become one flesh." Biblical truth does not change by the vote of any majority, including by a majority vote of this court."
Schenck said the rulings now require Christians to not simply state same-sex is wrong. The decisions are now an invitation for Christians to "take a new approach to same-sex families. Legal same-sex marriages are a reality in America, and there will now be more of them," he said. "Our children are likely t have friends who have same-sex parents. Same-sex couples and same-sex families are visiting our churches in greater and greater numbers and we need to be welcoming to them.
"The Gospel is open to all regardless of their sexual orientation or the configuration of their families. Holding same-sex couples in contempt, excluding them from the reach of our ministries, or treating their children differently from other children, contradicts the Christian message," he said. "Christians of traditional faith must learn how to lovingly and compassionately minister to same-sex couples and families."
Talk about it: Visit Word New's blog radio station this Saturday at 9 a.m. EST or call (347) 237-5159 to talk on this topic.