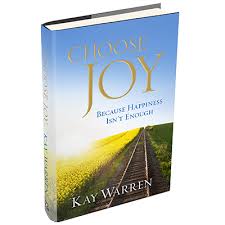 LAKE FOREST, Calif. (WordNews.org) April 28, 2012 – She's an international speaker, a best-selling author and Bible teacher, and the wife of one of the most well-known pastors in the world.
Yet Kay Warren says none of that is enough to bring joy.
In her latest book, "Choose Joy: Because Happiness Isn't Enough," Warren shares openly about her life experiences and how God has brought her to a place of choosing joy even in the midst of mild depression, two bouts with cancer, life-threatening illnesses attacking her children and grandchildren.
"Here is the foundational truth each of us needs to remember: God is the only true source of joy," Warren writes. "Joy is the settled assurance that God is in control of all the details of my life, the quiet confidence that ultimately everything is going to be all right, and the determined choice to praise God in all things."
Warren said the Bible has 545 references to joy, laughter and merriment, compared with just 150 references to tears, sorrow and sadness.
Joy is not the same as happiness, she writes, and cannot be reached with people, places, possessions or personality.
It's time people adopt a new "heavenly" value system, she writes.
"We keep trying to line up all the little ducks in a row, to smooth out the rough spots, and to shore up all the wobbly places, still convinced that if we get our act together, we finish the huge project, our health clears up, we get a raise, or we can just get things right, we can finally be joyful," Warren writes. "But if you're going to experience joy, you must choose it — in spite of, even if, and in the middle of everything else."
Warren penned "Choose Joy" based on a Bible study she first taught at Saddleback Church in July 2011, drawing more than 5,000 women for the four-week sessions.
Co-founder of Saddleback Church with her husband, Rick, Warren has a passion for inspiring and motivating others to make a difference with their lives.
Come back next Saturday for the latest installment of "Saturdays with Kay Warren."