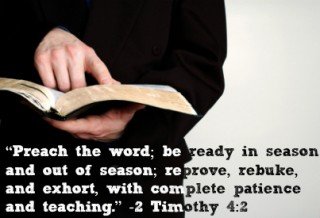 (WordNews.org) Sept. 27, 2012 – Pastors across the country plan to not skirt political issues on Oct. 7, what is being dubbed Pulpit Freedom Sunday.
On Pulpit Freedom Sunday hundreds of pastors are expected to stand together and preach a sermon that evaluates the candidates running for office in light of Scripture and Church doctrine.
It is the second year of Pulpit Freedom Sunday, and it is designed to challenge what is known as the Johnson Amendment, an amendment to the 501(c)(3) section of the federal tax code aimed at limiting certain nonprofits' involvements in political campaigns. The amendment was added in 1954.
Click here for more information
The goal of Pulpit Freedom Sunday is to have the Johnson Amendment declared unconstitutional.
Organizers said groups like Americans United for Separation of Church and State frequently send letters to pastors trying to intimidate them into silence on the biblical issues surrounding elections.
Related: