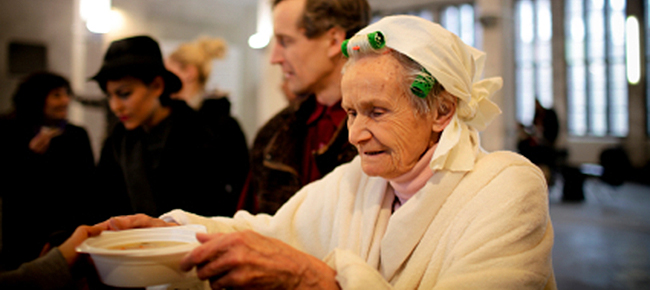 CAROL STREAM, Ill. (Jan. 6, 2013 – A new survey finds that despite the economic downturn, 96 percent of all churches in the United States are involved in some form of relief work in their communities, feeding and clothing the poor.
The survey also found that 58 percent of churches in the U.S. provide hands-on assistance for causes throughout the country.
The "Outlook for Outreach" survey of 1,486 church leaders was conducted by Christianity Today and Brotherhood Mutual Insurance Co.
According to the survey, while churches often met or exceeded needs for clothing and food on the local level, churches fell short in providing assistance for the unemployed or focusing on efforts related to preventing crime and gang-related violence.
On the mission front, 54 percent of churches surveyed conduct in-country mission trips and 70 percent were involved in international outreaches. Of those involved in foreign missions, 60 percent of them are funding building projects, including constructing homes, schools, churches, medical clinics and orphanages.
Back at home, 90 percent of churches allow other organizations to use their facilities for outreach programs.
"Churches engage in all kinds of outreach efforts," said Dave Lantz, vice president, claims, Brotherhood Mutual Insurance Co.
There are obstacles to that outreach, however, including finding volunteers and funding for outreach. But according to the survey, 41 percent of the churches reported that volunteerism is up for outreach ministries, and nearly half (45%) expect their church budget for outreach to increase in the coming year.
"Outreach and compassion are important hallmarks of church life," said Marshall Shelley, editorial vice president of Christianity Today. "The results of this study show the high percentage of churches and church members that are involved in serving their neighbors locally, nationally, and internationally. If faith must be exercised to remain healthy, then most churches see outreach as the fitness center for faith."