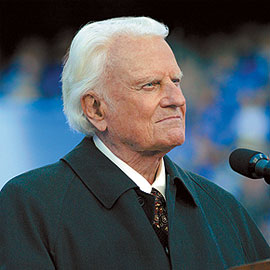 CHARLOTTE, N.C. (WordNews.org) Jan. 9, 2013 – Billy Graham plans to hold events in 47 major U.S. cities and 44 Canadian cities during the next three months.
That's not all. America's Pope is planning meeting in every corner of every country.
The 94-year-old evangelist won't be making the trek in person. It's part of a grassroots effort he is starting called My Hope with Billy Graham, where Christians learn how to effectively share their faith with family and friends.
The ministry comes at a time when Pew Forum says one inf five people in the U.S. report having no religious affiliation, up 5 percentage points in the past five years.
Last month, eight My Hope with Billy Graham information sessions were held at locations from coast-to-coast. The events are tailored for pastors and church leaders. The initial sessions are presented by representatives of the project who share Billy Graham's vision for My Hope, including testimonies from past participants, and materials from time-tested resources used in Billy Graham Crusades for more than 60 years.
"My Hope has been used in many countries and hundreds of thousands of people have received Christ as Savior," said Billy Graham. "I think it is going to be a tremendous time of evangelism. I think that the Lord is going to use it mightily. I've been praying that we might have a spiritual awakening. But I think that becomes possible as individuals surrender their lives fresh and anew to Christ. And that's the hope that we have."
My Hope with Billy Graham urges participants to reach out to people they already know and engage in meaningful conversation and connections as a catalyst for sharing the hope and love found in a relationship with Jesus Christ. While one-on-one conversations will be the root of this relationship evangelism outreach, there will also be a special program available on a wide range of formats including TV, radio, DVD and Internet that people can share to reinforce the message. The program will feature music, stories and Billy Graham's presentation of the Gospel.
"My father is as burdened today about the souls of men and women as he has been at any time in his life," said Franklin Graham, president and CEO of the Billy Graham Evangelistic Association.
My Hope with Billy Graham will culminate in November 2013, the month Billy Graham celebrates his 95th birthday.