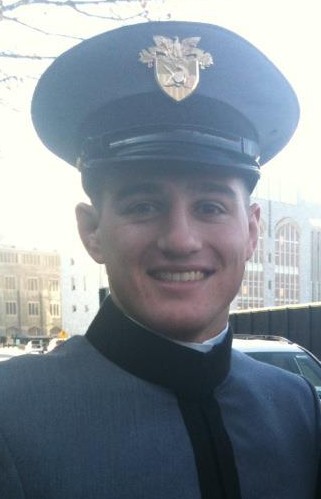 HAITI (WordNews.org) Feb. 28, 2013 – Brian Walsh, a cadet at the U.S. Military Academy, is heading to Haiti on a mission trip with members of a Christian group at West Point.
Walsh will be in Haiti from March 8-17, during spring break, with 20 cadets to work with Nehemiah Vision Ministries.
"We will be reaching out and spreading the Gospel through ministering and evangelizing while helping children, families and communities meet their basic needs," Walsh said. That includes manual labor, such as rebuilding villages and homes.
Word News caught up with Walsh recently to find out more about the mission trip:
How did you get involved in the work going on in Haiti?
The Christian organization I am a part of here at West Point, Officers of Christian Fellowship (OCF), had established a relationship with the international missions' organization Nehemiah Vision Ministries (NVM) a few years ago. OCF sent a Missions team down last year to serve. When OCF announced a few months ago that they would be sending another team down this spring, I eagerly jumped on the opportunity.
Tell us more about what you'll be doing in Haiti and where you'll be.
We will be serving in an area called Chambrun, northeast of Port-au-Prince. NVM has a compound there with a hospital, a school, farmland, an orphanage, a church, and other facilities to support long and short- term missionaries. NVM's vision is to train Haitians to become involved in rebuilding Haiti. Through education, health care, providing for basic needs of life, and spiritual development, NVM is equipping Haitians to rebuild their country and most importantly, transform their lives through salvation in the Lord Jesus Christ. We will be helping NVM in multiple ways. Manual labor will include building things such as fences, painting, digging footings, repairing the school, church and orphanage, and anything else needed. We will play with the kids, put on a church service, and share the love of Christ with the Haitians.
What is God putting on your heart these days?
The reason I was so excited to be a part of this trip is because God is calling me to a career of long-term missions. The Lord has put a passion in my heart for reaching the lost by providing for their physical needs while also reaching them for the Gospel of Jesus Christ. Over the past six months especially, God has been relentless in revealing His plan for my life. Our time on earth is so very short in comparison to eternity. And there are millions of people that do not know the saving power of Jesus Christ and His sacrifice for us. What greater calling is there to make known the name of the Lord in the world? That is our purpose as Christians. Romans 10:13-15 tell us that "Everyone who calls on the name of the Lord will be saved. How, then, can they call on the one they have not believed in? And how can they believe in the one of whom they have not heard? And how can they hear without someone preaching to them? And how can anyone preach unless they are sent? As it is written: 'How beautiful are the feet of those who bring good news!'"
People are lost. They are walking through a life that will very soon end, and if they do not have a personal relationship with Jesus Christ as their Lord and Savior, they will spend eternity separated from God. But they cannot know the Good News unless there are people there to tell them about it! In Matthew 28:18 we are commanded by Jesus at the end of his time on earth to "go and make disciples of all nations, baptizing them in the name of the Father and of the Son and of the Holy Spirit". I wish to be obedient to that Commission and fulfill the Lord's purpose for me by glorifying Him through proclaiming the name of Christ in all I do.