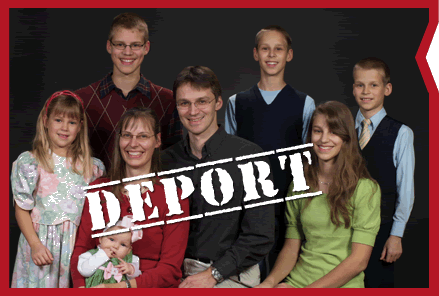 WASHINGTON, D.C. (WordNews.org) April 8, 2013 – A German homeschooling family granted asylum in the United States in 2010 is seeking permanent legal status.
A petition has been launched in support of the Romeike family. To date, more than 86,000 have signed the petition, with a goal of 100,000 within reach.
The Romeikes are being represented by the Home School Legal Defense Association. According to HSLDA, Germany persecutes homeschooling families with fines, criminal prosecution and forcibly removing children from their families.
The Romeikes fled their home in Germany in 2008 after facing fines and jail time and came to the U.S. seeking asylum. HSLDA said the Obama Administration opposes their quest for asylum, arguing that homeschooling is too vague and amorphous to be protected under asylum law.
[For more on the Romeikes' story]
Last week, Focus on the Family spokesman and Truth Project founder Dr. Del Tackett voiced support for HSLDA's efforts in representing the Romeike family.
"[The U.S. government] doesn't believe that parents have a right to educate their children," Tackett said. "It is more in line with the National Education Association that homeschooling shouldn't be allowed. It believes that the government can best educate 'America's children.' It doesn't want another worldview taught in this country. It wants America's children to have one worldview and one worldview only."
Mike Ferris, HSLDA chairman, encouraged other groups to support the Romeike family, what he called "modern day Pilgrims who came to America to seek religious freedom for themselves and their children."