SCOTTSDALE, Ariz. (WordNews.org) Jan. 5, 2018 – On Feb. 18, Pure Flix's biblical epic Samson is set to hit theaters nationwide.
On Wednesday, the independent faith-based film studio released a trailer for the film. Click here to view the trailer
"If you've ever faced adversity and wondered if God was big enough to see you through it, this is your film," said Pure Flix CEO Michael Scott.
The film stars Gold Globe winner Rutger Hauer, Billy Zane, Jackson Rathbone, Lindsay Wagner, Caitlin Leahy and Taylor James in the title role of Samson.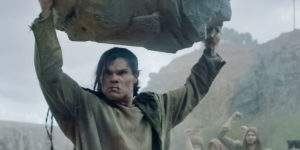 Samson is based on the powerful, biblical epic of a champion chosen by God to deliver Israel. [You can read the story here].
His supernatural strength and impulsive decisions quickly pit him against the oppressive Philistine empire. He was betrayed by a wicked prince and a beautiful temptress and then captured and blinded by his enemies. [SPOILER ALERT: Samson calls upon his God for supernatural strength and turns imprisonment and blindness into final victory].
Samson wasshot on location in South Africa.
To learn more, visit http://www.samson.movie.